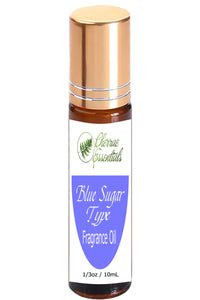 Our Blue Sugar Type roll on fragrance oil has a soft but masculine smell. There's a hint of citrus blends with a little bit of soft musk. It's free of toxic chemicals you find in stores.
Shake before each use.  Just dab a little oil on your neck and behind your ears. The scent will last for hours.
Our 10 ml glass bottle has a stainless steel roller ball for a smooth application.
Our fragrance oil is:
Ingredients:
Prunus amygdalus var. dulcus (Sweet Almond)

oil
Fragrance
Disclaimer: 
Cherrae Essentials has no affiliation with the company or manufacture.   
Copyrights and trademarks are the properties of the manufacture and/or designer.   We do not intend to mislead or confuse our customers.  The description is only to give our customers an idea of the scent.